Hydration has been proven to be the foundation for radiant, healthy skin. At Beautiful U Med Spa in American Fork Utah Hydrofacials are one of our most requested treatments!
HydroFacials use patented technology to cleanse, extract and hydrate to create an instantly gratifying glow. The treatment consists of a 3-step process to improve the appearance of fine lines, wrinkles, brown spots and enlarged pores while evening overall skin tone, vibrancy and texture.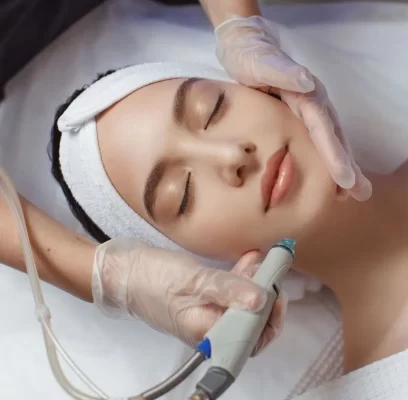 CLEANSE + PEEL
The first step will uncover a new layer of skin using gentle exfoliation and resurfacing.
EXTRACT + HYDRATE
The second step will remove debris and congestion from the pores with painless suction followed by moisturizers to nourish the skin.
FUSE + PROTECT
The final step will saturate the surface of the skin with antioxidants and peptides to maximize the glow.
Exfoliates and removes dead skin cells
Helps to unclog pores and black heads
Minimizes fines lines
Hydrates the skin
Leaves your skin glowing
No downtime
See and feel immediate results
*Can be done every 1-2 weeks
Hydrate! Hydrate! Hydrate! Curb sun-dried skin with a nourishing HydroFacial.

Hydrofacial Treatments
$
130
with Luxe Membership
Hydrofacial without Luxe Membership - $149

Hydrofacial with Hydrojelly Mask - $174

Pro Hydrofacial with Alsatin TriHex wtih Luxe Membership - $210

Pro Hydrofacial with Alsatin TriHex - $249

Hydrofacial Package with 3 Treatments $350
Immediately after your HydroFacial, your skin will look radiant and rejuvenated. The effects of a HydroFacial last around 2 weeks, but can last longer. Continued sessions and proper at home skincare can produce longer-term benefits. We recommend scheduling a regular, once a month HydroFacial to maintain your glow.
All areas of the skin are treatable but are most commonly used on the face, neck and neck/chest.
Interested in one of our other Facial Treatments?